Vine Psychic Line
Vine is an experienced and gifted Natural-Born Clairvoyant Medium.
She can connect to your issues and give accurate, truthful psychic readings.
Call Vine if you need expert psychic reading guidance in love, family relationships, work or business. Vine's client
testimonials
demonstrate the accuracy of her psychic readings and how people's lives have positively changed after receiving Vine's spiritual guidance.


    In Australia you can call Vine direct...     Secure PayPal, Credit/Debit Discounted
NOW 35 Years of providing
genuine clairvoyant medium readings!
Vine Phone Psychic Line is the #1 Australian Online Psychic Readings Line, built on Vine's 35 years of Professional
Psychic Reading experience
and her genuine clairvoyant medium reputation.

You can Call from Australia...
Or book a discounted psychic reading here...
Book a Reading with Vine

Fill in ALL details in the form below
and click the red SEND button to arrange a phone psychic reading with Vine, from Australia or anywhere in the world.
You will then be taken to Step 2
where you can choose the length of your reading and payment through our secure PayPal service. Bookings will not be processed until Step 2 is completed and your PayPal payment has been received.
Please ensure you fill in all details.
Phone Psychic Readings
Which Psychic Reading is Best for Me?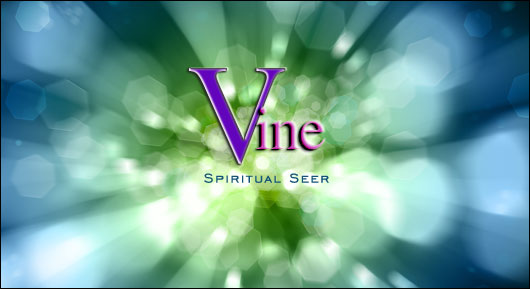 20 Minute Reading
Best for one question only - $80 AUD
30 Minute Reading
Best for 2 or 3 questions & more detail - $115 AUD
40 Minute Reading
Best for several questions - $140 AUD
60 Minute Reading
Best for a comprehensive analysis - $220 AUD
60 Minute Cellular Memory Reading
- Please only choose the Cellular Memory Psychic Line Reading if you've already spoken with Vine about whether a Cellular Reading is right for you at this time - $240 AUD
A Cellular Memory Reading is best for spiritual energetic transformation. It is a major energetic shift and is subject to the correct spiritual conditions. To ascertain whether a cellular memory reading is suitable for you at this time, a previous reading is required for Vine to discern whether your energetic field can cope.
Read about the 60 minute
Cellular Memory Reading
We accept

Vine Psychic Line uses Safe and Secure industry leading on-line credit card facilities. We do not retain your information on a customer service data base and your complete anonymity is assured. Save approximately 20% to 25% by booking online instead of directly to telephone bill.
Psychic Reading Gift Voucher
Vine's "The Right Timing" Gift Voucher
has been spiritually designed to allow your friends or loved ones to book a reading in their own time. Book a discounted Credit Card Reading and show them how much you care.
To purchase a standard gift voucher, use the discounted credit card booking system above and specify that you would like to purchase a Gift Voucher.
Gift vouchers are redeemable for 6 months from date of purchase.
Book a PSYCHIC READING GIFT VOUCHER here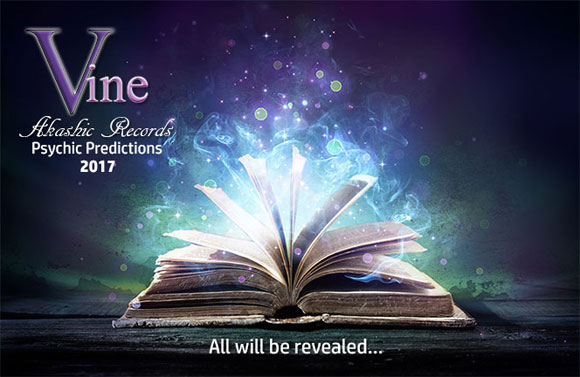 2017 Psychic Predictions
Vine's Psychic Prediction Message for 2017
Vine's 2017 Psychic Predictions share the reasons why her Spiritual Guardians call the Trump presidency illegitimate. Who was behind deceptive electoral processes in the United States and Brexit 'Leave' campaigns? What is their relationship to Australia? Many of Vine's 2017 psychic predictions have come true and Vine's
2018 Psychic Predictions
concerning money laundering and tax havens are already coming true.
Read Vine's 2017 Channeling from Spirit:
2017 Vine Psychic Prediction Prophecy Summary from Angelic Spiritual Guardians
Read Vine's 2017 Psychic Prediction for the Donald Trump Government here:
Elites Behind Donald Trump US Elections - Fake News - New World Order Plan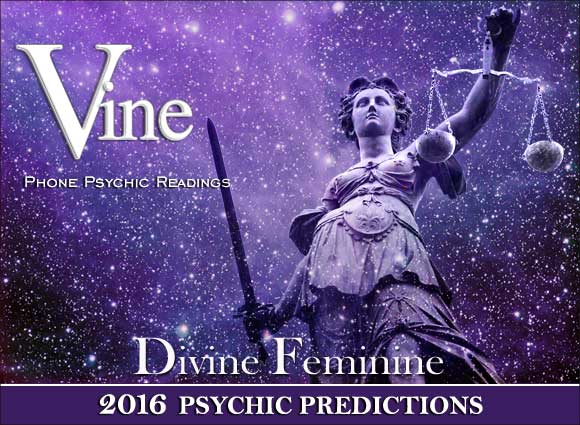 Divine Feminine Year
Vine's Psychic Prediction Message for 2016
In 2016 our world will see the influence of the Divine Feminine cosmic energy.
Vine has predicted that the Spiritual Voice of the Divine Feminine energy will begin to scrape away the old fossil-fueled ways of our world. Over the last eight years there's been a fight between good and evil happening on our Planet. In 2016 the Divine Feminine Energy will begin a healing of the influence of the dark energies of recent years.
The emergence of the Divine Feminine energy is about the balance of Yin and Yang energies. The Divine Feminine Energy is a Yin energy and in 2016 the influencers of the overpowering Yang energy are in for a shock - Universal balance is on its way.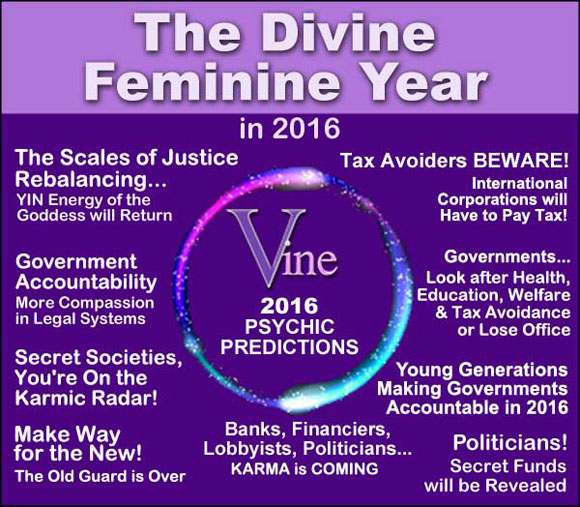 Vine Psychic Line
Ethical Conduct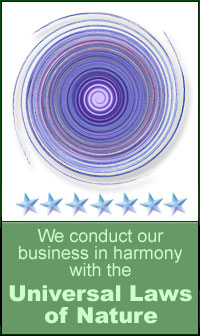 Vine always follows the
Universal Laws
of Nature. The seven Universal Laws spiritually inform us how to go about with our everyday existence. To live a peaceful progressive, fulfilled life it is essential to live in harmony with the Universal Laws.
Vine has a strong ethical foundation and offers genuine spiritual readings that help you find peace and clarity in your life.
A reputable psychic should have a solid spiritual and psychic background and know how to deal with a wide range of paranormal experiences. Clients trust Vine because she is a genuine clairvoyant medium. Vine gives consistently clear and genuine spiritual guidance.
Vine's psychic readings are amazing.
Learn more about
Vine's spiritual background
.
Aboriginal & Indigeneous Psychic Help
Vine respectfully acknowledges the spiritual wisdom of the first people and is often used as a medium by Spirit to connect to the heightened essence of indigeneous people of spiritual heritage.
People of native Aboriginal and Maori backgrounds are encouraged to call Australian Vine Psychic.
Vine Psychic Line is run in harmony with the Universal Laws of Nature. To learn more about our spiritual philosophy and business practices go to: Vine Psychic Line -
Universal Laws of Nature

Australian and International Bookings
Secure PayPal, Credit or Debit

In Australia you can call Vine direct...
Clients recommend Vine Psychic Line to their family and friends for a reason. Vine consistently provides real psychic help that comes true. Vine's Psychic Reputation is built on 35 years of solid psychic reading experience.